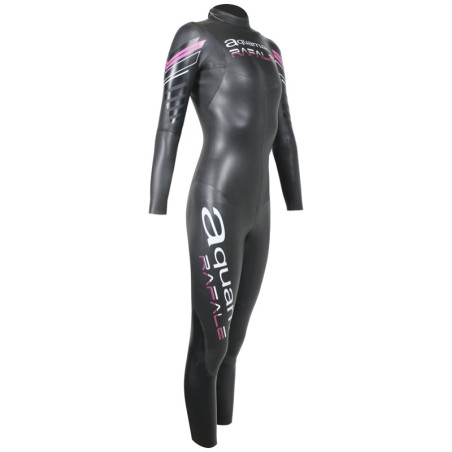  
Rafale Lady
Swimming and triathlon wetsuit made with Yamamoto neoprene with SCS coating at strategic points for optimum comfort and a real swimming aid.
Read more
Yamamoto #39 
Yamamoto 39 neoprene is a must in wetsuits: it ensures flexibility, lightness and slickness in the water. Yamamoto 39 is an eco-friendly neoprene made from limestone rather than petrochemicals.


Blind - Stitch - Glued Thermotape
The job of a wetsuit is to let in a little water as possible! The bonded/stitched assembly of the neoprene panels guarantees 100% watertight seams. This is also the most effective and the most robust assembly technique.


Flex Zip
It is vital that the back zip should be as supple as possible, because performance is impaired by discomfort. Our exclusive Aquaman Flex Zip technology offer swimmers unmatched comfort by freeing the arm completely and extending the reach as far as possible. Back flexion is enhanced by more than 12% and arm reach increased by at least 7 cm.
Flash System
The Flash System performs several functions: first, the collar is 3 cm high at the back to protect the neck. The flap that protects the two Velcro fasteners is designed to eliminate any risk of neck rash. The Flask System opens as part of the movement of the Quick Transition Zip and thus also helps in taking off the wetsuit.
Yamamoto #39
Ensures flexibility and glide. Eco-Friendly neoprene, made from limestone and not petroleum.


Blind - Stitch - Glued Thermotape
Assembly of the neoprene panels guarantees 100% watertight seams.


SCS
Hydrophobic coating applied to the smooth outer part. It facilitates gliding through the water, contributes to the longevity of the neoprene and makes it easier to undress.


Flex Zip
The relaxed zip offers the swimmer incomparable comfort and completely frees up the extension of the arm to reach as far as possible.


 Quick Transition Zip
In a single movement the zipper opens, the velcro on the collar comes off and the left shoulder is free.
Flash System
Protects the back of the neck, avoids the risk of irritation and helps to make the suit quick to remove.


Revolving Collar
The collar prevents water from entering, lies snug at the back, and does not compress the neck.


Thickness
3 mm Bust and Legs / 2mm biceps and neck.


Back closing
With inversed back zip.


France
Conceived and designed in France.


Men's size
XS / S / M / L / XL / XXL.


Women's size
XS / S / M / L / XL.