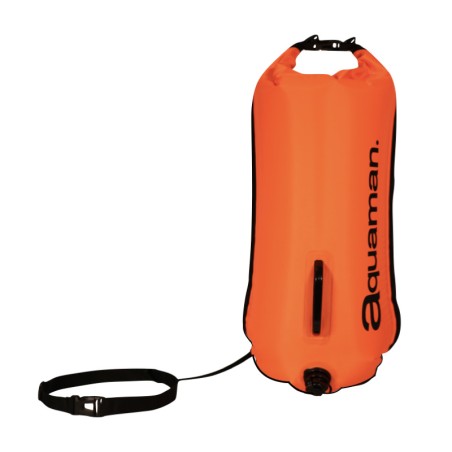  
Buoy
The Aquaman buoy accompanies you on your open water outings. It ensures visibility, efficiency and practicality. 
Read more
Safety
The Aquaman nylon buoy is designed to make the swimmer visible from boats, thanks to its orange colour, visible from a distance. It also allows the swimmer to be quickly spotted by rescuers in case of difficulties.
It offers support to the swimmer in case of fatigue with its handle integrated into the buoy.
The buoy has two independent air chambers, so that it does not completely deflate in the event of a puncture or loss of air while swimming. It inflates after storing your personal belongings inside.


Efficiency
The buoy is supplied with an adjustable belt. From 58 to 110 cm, it can be perfectly positioned and adjusted to your morphology so that you can swim without any discomfort. 


Practicality and benefits of use
Knowing where to leave your personal belongings, car keys or phone is no longer a question with the Aquaman buoy's waterproof compartment. Its interior compartment allows you to take your belongings with you during your swimming session.
Technical specifications
28 L


Dimensions
The inflated buoy 25 X 52cm.