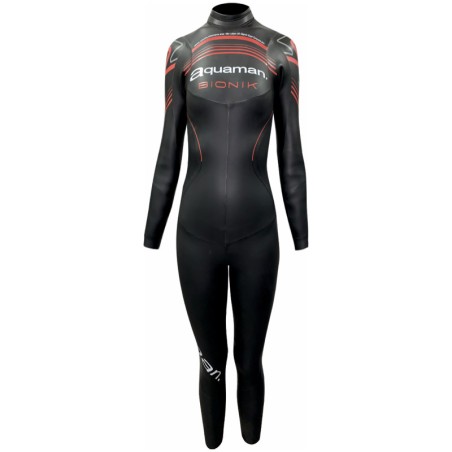  
Bionik Lady
Exceptional flexibility, legendary comfort, maximum glide, to swim even faster with lots of fun and less effort.
Read more
Flex Zip
It is vital that the back zip should be as supple as possible, because performance is impaired by discomfort. Our exclusive Aquaman Flex Zip technology offer swimmers unmatched comfort by freeing the arm completely and extending the reach as far as possible. Back flexion is enhanced by more than 12% and arm reach increased by at least 7 cm.


Giga #40
Giga #40 neoprene weighs even less than Yamamoto 39, offering a sensation of extraordinary lightness and total freedom. It is used in key locations: at the shoulders to enable unrestricted rotation of the arms, at the collar to ensure maximum comfort and on the back to increase flexibility by 10%.


Yamamoto Aerodome
Buoyancy means speed: Aerodome neoprene encloses large air bubbles to deliver 30% more buoyancy. Positioned at key points, it provides improved balance and lifts the swimmer higher in the water.


Super Composit Skin (SCS)
The unique technology of SCS (Super Composit Skin) provides a water repellent coating applied to the smooth outer surface of the suit. It enhances slickness in the water, guaranteeing improved performance. It also helps to increase the durability of the neoprene and simplifies undressing.


Flexor
To increase back flexion from the lower back to the neck, a 3 mm Giga #40 panel is located at the bottom of zip. Used together with the Flex Zip. Flexor is the ultimate weapon in increasing maximum arm reach. 
Giga #40
Soft Yamamoto neoprene providing a feeling of lightness and total freedom.


Yamamoto #39
Ensures flexibility and glide. Eco-Friendly neoprene, made from limestone and not petroleum.


Yamamoto Aerodome
Neoprene plate trapping large air bubbles and providing 30% more buoyancy.


Blind - Stitch - Glued Thermotape
Assembly of the neoprene panels guarantees 100% watertight seams.


SCS
Hydrophobic coating applied to the smooth outer part. It facilitates gliding through the water, contributes to the longevity of the neoprene and makes it easier to undress. 


Flexor
GIGA #40 3mm neoprene panel placed at the bottom of the zip to enhance back flexibility.


Flex Zip
The relaxed zip offers the swimmer incomparable comfort and completely frees up the extension of the arm to reach as far as possible.


Quick Transition Zip
In a single movement the zipper opens, the velcro on the collar comes off and the left shoulder is free.


Flash System
Protects the back of the neck, avoids the risk of irritation and helps to make the suit quick to remove


Revolving Collar
The collar prevents water from entering, lies snug at the back, and does not compress the neck.
Folding Line
Internal markers located behind the knees and on the forearms facilitate optimal positioning of the wetsuit


Free Legs
To relieve the calf muscles during the race between getting out of the water and the bike park, a thinner neoprene panel is positioned on the calf to free up the muscles and make running easier.


Thickness
5.0mm Bust and Legs / 3mm / 2mm / 1.5mm


Back closing
With inversed back zip


France
Conceived and designed in France 
Men's sizes
XS / S / M / L / XL / XXL
Women's sizes